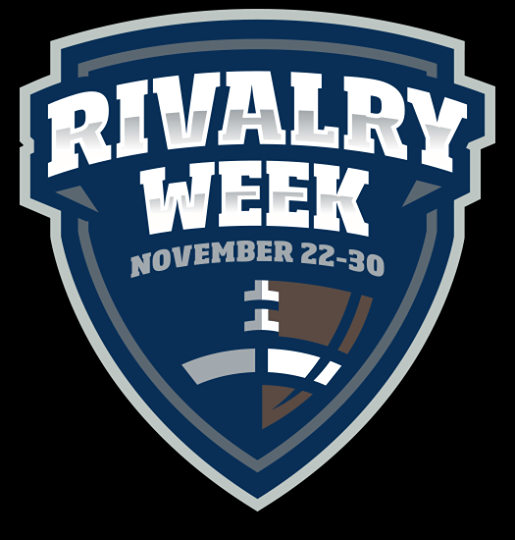 One of the most exciting weeks of the college football season is upon us. There's going to be a good amount of shuffling in the top 10 this week due to these match-ups. Depending how the cards fall, this could lead to someone like UCF making a push towards the college football playoff.
Washington State vs Washington
Washington has somewhat underwhelmed this season with a veteran QB at the helm. Jake Browning has all the experience needed to pull off the upset here, however I don't know if the Washington offense can keep pace with Washington State. Gardner Minshew has established the ability to win in his lone year as the head signal caller for the Cougs, while also sporting a mustache that has their fan base in a craze. Line currently is at (-3) for the Cougars and we can hope for a game that close but I think Washington State runs it up late and covers easily.  Cougars over Huskies 35-24.
Oklahoma vs West Virginia
This has the potential to be the game of the weekend with stars at both QB positions. Will Grier for the Mountaineers is a projected mid round NFL draft prospect at worst, could propel his stock to the first 2 rounds with a big win and performance against this daunting Oklahoma team. Without a doubt Kyler Murray is the best athlete at quarterback this year in college football. With MLB teams drooling over his potential, the Athletics drafted him in the 1st round of the MLB draft this past year. He bargained through his commitment with them to allow him to play one more year of football and boy has it worked out well for the Sooners.  Outside of a 3 point loss to Texas they have looked like one of the more dominant teams in the country, not only through talent but with a head coach the NFL will surely steal away sooner rather than later in Lincoln Riley. Their defense has been moved on with relative ease (typical Big12) however so this is where things could get interesting, ESPECIALLY with the game being @ West Virginia. I'll take the upset here and say Will Grier has a draft propelling win vs a top 10 team in the country. WV wins it 45-42.
Michigan vs Ohio State
This game is an NFL draft scout's dream come true. So many players from both teams that will be littered through the first three rounds of the upcoming NFL draft. Urban Meyer looked utterly bewildered this past weekend trying to beat (insert sarcasm) perennial powerhouse Maryland, and if Pigrome makes a good throw on the 2 point conversion Ohio State loses that game. Haskins has the tools to potentially be a starter at QB in the NFL and I like him more than Shea Patterson of Michigan by a long shot. However, the Ohio State run game hasn't impressed and the defense just got shredded for 21 carries and 298 yards alone by Maryland's lead back Anthony McFarland. Michigan's defense is somewhere in the top 5 for best in the country in my opinion with studs at every level. I believe their defensive line and linebackers are going to have a field day while controlling the line of scrimmage. What could be a 1 possession game around halftime could get ugly late, as the Michigan offense is competent enough to take advantage of the turnovers as well as 3 and outs I see them forcing throughout the day. Even with the game being at Ohio State, the Michigan defense seems too overwhelming. Michigan prevails 27-14.
Alabama vs Auburn
Normally we would look to this game as one of the times Bama could slip up. Let's keep this one simple, Auburn isn't playing particularly well this season, with losses to Mississippi State and Tennessee sticking out like a sore thumb. The same Tennessee team (shameless Mizzou plug) Mizzou just dropped 50 on for the second year in a row. Yes funny things happen in rivalry games, yes Auburn always seems to find a way to play them close, but this year could and should get ugly. I'll take Alabama in a blowout 35-10.
The other two big rivalry matchups are Florida vs Florida State and Notre Dame vs USC.  Florida should win that game easily as Florida State has been mediocre at best this year, however it is @ FSU so you can't count them out completely. Florida wins it 31-21. Notre Dame might be the least talked about dominant team this season and looks on pace to throttle USC. Ian Book appears to be the real deal and can make every throw the Fighting Irish need him to. Their defense has looked stout and as fundamentally sound as anyone in the country. Look for them to handle USC with ease. ND wins 31-14.
*BONUS MIZZOU CONTENT ALERT*
Barry Odom absolutely has the University of Missouri football team firing on all cylinders. It's been impressive to watch the last 2 weeks. They pounded Tennessee from the first snap of the game on defense, created turnovers, and were blatantly better in every aspect of the game. Honestly if Mizzou runs the table, Odom could be looking at an extension on the horizon. But that's neither here nor there at the moment. Mizzou has a nice Razorback for Thanksgiving and wins it 42-21.
M-I-Z